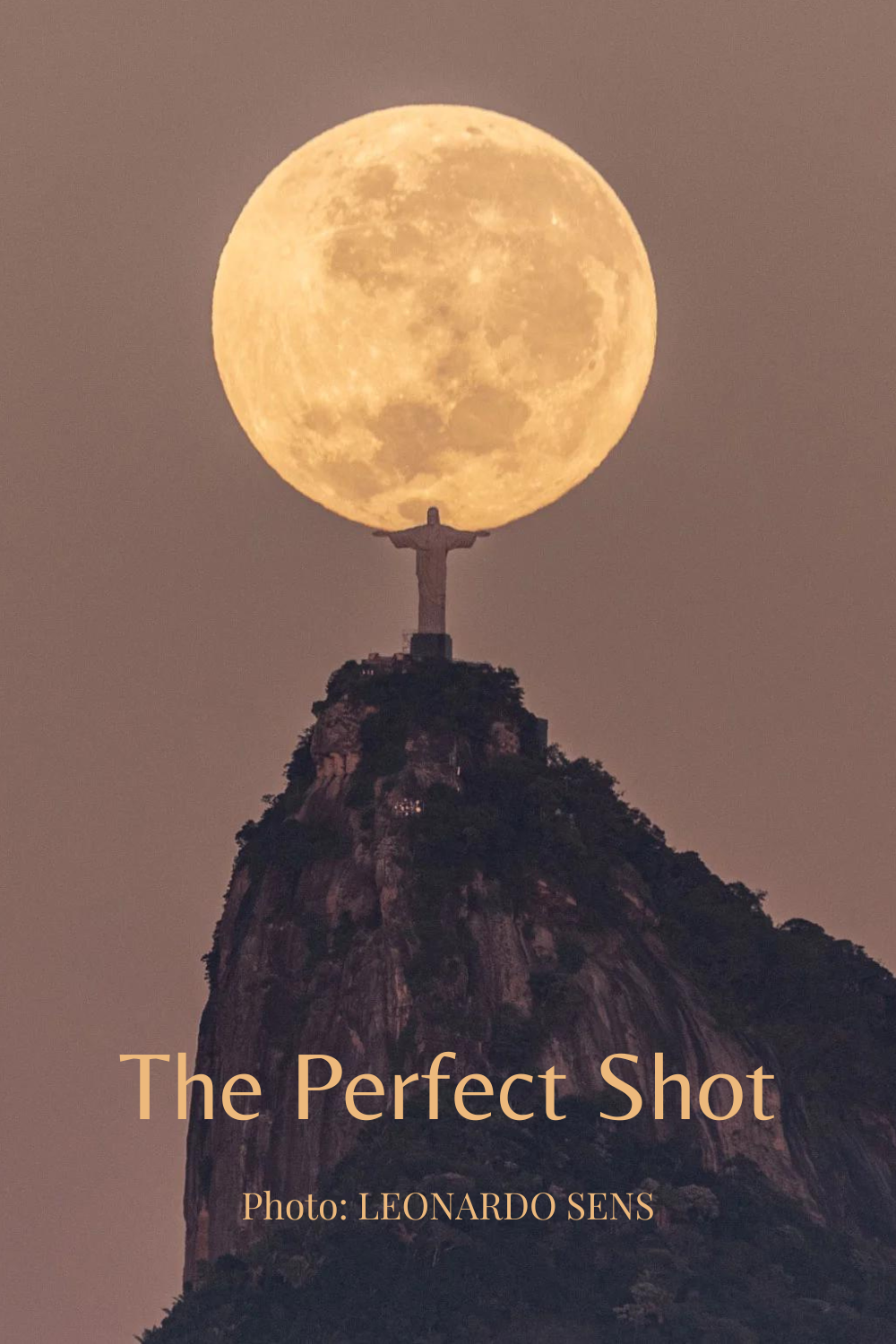 Preparing for the way of the Lord and waiting on Him aligns us with Him.
"Commit thy way unto the LORD; trust also in him; and he shall bring it to pass." Psalm 37:5
 This perfect photo was three years in the making by Brazilian photographer Leonardo Sens.
He prepared by studying the moon's position.
Different applications he tried helped him find 'the times and the exact date' that the moon would be positioned directly above Christ the Redeemer in Rio de Janeiro.
Two years ago, he purchased a special lens 'in order to take closer pictures of the moon and sun.'
Numerous tries that had to be abandoned due to cloud cover and other issues. He was finally able to capture the shot from the city of Niterói, almost seven miles away from where the statue is located.
The photographer planned, prepared, and waited for the perfect moment to get the perfect shot.
We can align our minds and souls with Christ through a conscious effort to commit and devote ourselves to Him. Then, we can consciously choose to make it a daily practice to align our actions with His laws and wait upon the Lord.
"The Lord is good unto them that wait for him, to the soul that seeketh him."  Lamentations 3:25
The photographer positioned his tripod after his preparatory work and waited for the moon to rise.
When we prepare for the way of the Lord in our daily lives, we have a 'shot' at (committing our best to align with) realizing His promises and walking before him and being perfect.
"And when Abram was ninety years old and nine, the LORD appeared to Abram, and said unto him, I am the Almighty God; walk before me, and be thou perfect.  And I will make my covenant between me and thee, and will multiply thee exceedingly."—Genesis 17:1-2
The photograph is described as perfection.
When we follow him, his Light illumines the parts we need to give to him for healing and it shines on His perfect way.  We may be then blessed, watched over, taken care of, given the good we ask for in His name, and lack nothing good. Praise God!
"…they that seek the Lord shall not want any good thing."—Psalm 34:10
"… I am the light of the world: he that followeth me shall not walk in darkness, but shall have the light of life."—John 8:12
#InspirationalBlogger #FollowingChrist #GodisLight #Godisgood #AlignwithChrist
Photo: Brazilian photographer Leonardo Sens
LEONARDO SENS (@leosens) on Instagram: